Health Hub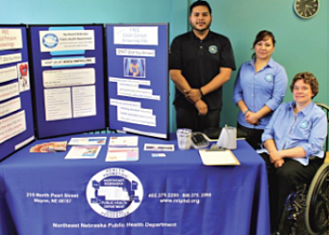 Health Hub* staff are Registered Nurses and Community Health Workers. They partner with organizations in the community to provide screenings and services that help people find and treat health problems early. These services are offered at local businesses and community events.
What does Health Hub do?
Health Hub can provide:
Health screenings and assessments.
Health education classes; focused on healthy eating, physical activity, and other healthy lifestyle changes.
Referrals to healthcare programs and services.
Access to healthcare services such as assistance with applications, interpretation, translation, case management, and transportation.
At any Health Hub event, you can receive the following:
Screenings: For blood pressure, body mass index, and colon cancer (through take-home screening kits).
Assistance: In setting up appointments and connecting people to services and programs.
Classes: to teach simple lifestyle changes and personal health coaching to guide individuals in setting and meeting wellness goals.
*Supported through grants from Nebraska and U.S. Departments of Health and Human Services